Donald Jones used to pay at least $500 a month for a brand-name drug, Gleevec, that's kept his leukemia at bay for five years.
Lately, he's been paying almost as much for a generic version of the same pill.
It's not supposed to work that way. For decades in the U.S., generic drugs have been cheap, effective alternatives to expensive brand-name treatments. That's changing with drugs like Gleevec, Novartis AG's household-name cancer treatment. Generic forms of the drug can list for $150 or more a pill, before insurance covers part of that cost.
"If I don't take it, I'm going to die," Jones, 73, said in a phone interview. He lives in Desloge, Missouri and wants to retire from his $14-an-hour part time job refurbishing electric motors, which keeps him on his feet for hours. But he says he can't, because he needs the money to pay for the generic version of a drug he thought would be far less expensive.
A handful of factors might explain the trend. Several large companies dominate the market for generics, potentially reducing competition. The starting prices of newer cancer drugs are higher than many mass-market treatments. And generics manufacturers said that pills for cancer can be more expensive to produce.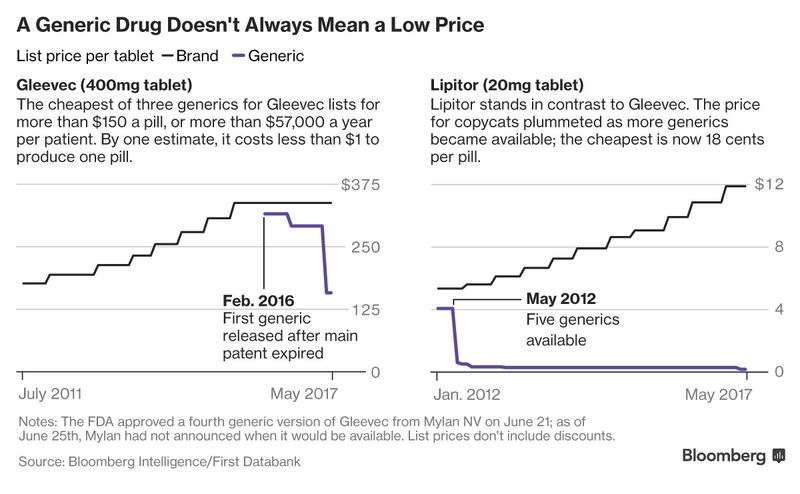 Jones's frustration helps explain why U.S. consumers have made drug prices a major political issue. Democrats in Congress this month pushed President Donald Trump to hold to a promise to go after drug costs, and the Food and Drug Administration has also promised to take action to try and get prices of generics down.
"It is a very clear market failure," says Andrew Hill, a researcher at the University of Liverpool who says that generic drugs should reflect their often inexpensive production costs. He calculates that a year's worth of the cancer pills can be produced for under $350.
About 300 generic drugs had "extraordinary" price increases of 100 percent or more from 2010 to 2015, even as generic drug prices fell overall, according to a Government Accountability Office study of prices in Medicare. The report didn't specifically focus on drugs like generic versions of Gleevec, which start at high prices and only come down gradually.
New Dynamic
"When a drug becomes generic, it should be treated like a commodity," Hill said. For many drugs, that's what happens. A 30-day supply of the generic version of Lipitor, Pfizer Inc.'s blockbuster cholesterol pill, lists for less than $20, compared to more than $350 for the brand.
Gleevec, approved in 2001, was considered a medical breakthrough that markedly increased the survival rate for patients with chronic myeloid leukemia. For a decade and a half, Novartis enjoyed exclusive sales rights, eventually charging about $10,000 a month before discounts. That made it a mega-blockbuster with $2.5 billion in U.S. sales in 2015. The list price for the cheapest generic version of Gleevec is still more than $4,700 a month, according to data compiled by First Databank and Bloomberg Intelligence.
Now that generic versions are available, Jones is using one that he hoped would lower his out-of-pocket costs dramatically. But after spending about $5,000 to get through the main part of his Medicare insurance plan's drug coverage gap, he's still spending $383 a month on a generic version made by Apotex Inc.
In the U.S., Sun Pharmaceutical Industries Ltd. is the leading provider of generic versions of Gleevec — making up about 42 percent of retail prescriptions for the once-a-day tablet, according to list price data from Symphony Health Solutions compiled by Bloomberg Intelligence. It charges $158 for each 400-milligram pill, according to data compiled by Bloomberg Intelligence, lower than other generic makers.
Sun said the cost of its generic is well below brand-name Gleevec and "has witnessed heavy erosion in its price." Both Sun and Apotex say they have programs to help patients with commercial insurance afford out-of-pocket costs. Jordan Berman, an Apotex spokesman, said it's "not accurate" to compare price dynamics for mass-market generic drugs to specialty medicines like Gleevec.
Few Competitors
The typical brand drug only has two generic competitors, fewer than in the early 2000s, according to an analysis by Rena Conti, an associate professor of health policy and economics at the University of Chicago, that was done with MIT researchers. At least three companies sell generic versions of Gleevec, including Teva Pharmaceutical Industries Ltd., along with Sun and Apotex.
Teva's generic version of Gleevec lists for about $292, though the company said the actual amount it gets after discounts is far lower. Novartis says it has additional patents on its drug, including one on a form of the drug that expires in 2019. The company expects sales of brand-name Gleevec to continue to decline.
The FDA, which has in the past kept questions of drug costs at arm's length, is starting to pay more attention. On June 5, FDA Commissioner Scott Gottlieb said the agency would take steps to get more competing generic drugs on the market, pushing applications to the front of the line when there are no, or only a few competitors.
Numerous other generics companies have filed applications to make generic versions of Gleevec, according to court filings against the companies by Novartis. The status of the other applications and why they haven't moved forward isn't clear, and the FDA declined to comment on the applications.
More Drugs
Gleevec isn't the only cancer pill whose price has come down slowly despite losing patent protection. Prices for Targretin soared five-fold to $249 a capsule within two years of Valeant Pharmaceuticals International Inc. acquiring the rights in 2013. Mylan NV, one of the biggest generic drug manufacturers in the world, sells the only independent generic version of Targretin at a list price of about $215 per capsule, 14 percent less than Valeant's.
Valeant, which sells its own generic version, says it's not preventing other generic entrants.
Nina Devlin, a spokeswoman for Mylan, disagreed with Hill's assessment that generic versions of cancer drugs are like other treatments. The pills are costlier to manufacture and require dedicated equipment, she said. Devlin said Mylan sells 635 drugs in the U.S. at an average price of 25 cents a dose.
A typical two-week cycle of Roche Holding AG's Xeloda, a colon cancer drug, cost more than $3,000 when it lost patent protection in 2014. Today, six generic companies make versions of the drug. Their list prices range from $560 to $2,628 for the same two-week cycle of drugs.
Cindy Coor, 45, of Mount Olive, North Carolina, was prescribed Xeloda after being diagnosed with a rare form of cancer in the lining of her abdomen this spring. She said she couldn't afford the $200 co-pay and takes an alternative drug, infused through a catheter in her chest.
"What is the point of it being generic if you are going to have to pay $200?" she said.
This article originally appeared on bloomberg.com by Robert Langreth and Daniel Levitt
Photo: iStock